The Jameson Family Chronicles
(( to see a draft of The Book, click here)
Col. David Jameson, M.D. – was born abt 1715 in Scotland and emigrated to Charleston, S.C. in about 1740 after graduating from the medical university at Edinburgh, Scotland. After living for a time in Shippensburg, PA, he settled in York and married Elizabeth Davis by whom he had 11 children including 5 boys, Horatio*, James, Thomas, and David, Jr. all of whom became physicians. David became an officer in the Pennsylvania militia during the French and Indian Wars starting in the 1750's and served under such well known figures as Benjamin Franklin and General John Armstrong. On April 2, 1756, Captain/ Lieutenant David Jameson and his company of men along with others attempted to retaliate against the Indians who attacked Fort McCord and free the captives at Sideling Hill not far from the Fort. During this engagement he was severely wounded and left for dead. Nevertheless, he survivied and eventually made it back to to Fort Littleton.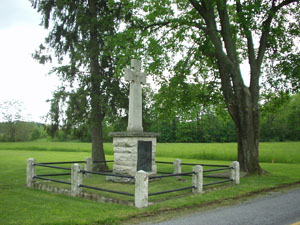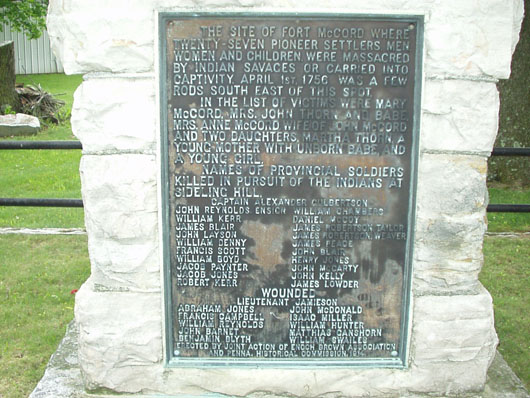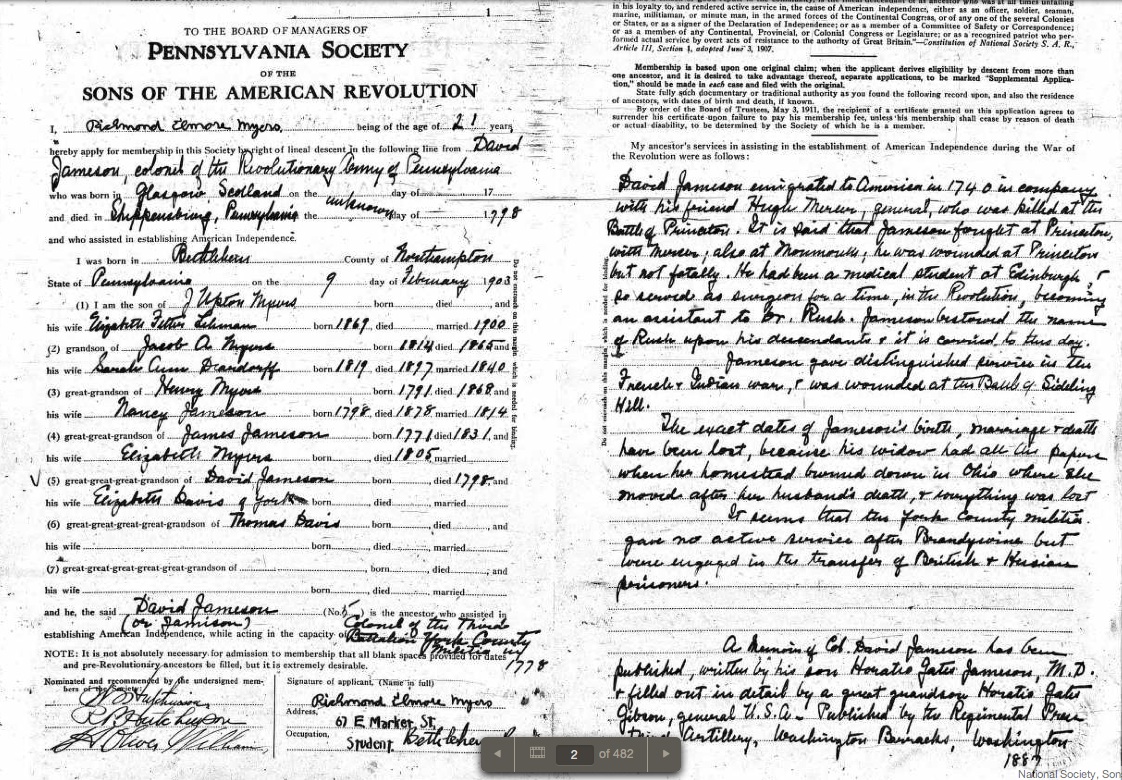 Later, David Jameson became a Colonel and physician during the Revolutionary War in 1776 and was commander of the 3rd Battalion of the York Associators*. At various times he was commander of Ft. Hunter, Ft. Augusta and Ft. Aughwick and was also stationed at Ft. Hallifax (period spelling). He was also known to have fought at the battle of Loyal Hanna (March 14, 1769) among others..See - Jameson, Horatio G. Memoir of David Jameson, Esq., M.D., Lt. Colonel of the Provincial Forces and Colonel of the Revolutionary Forces of Pennsylvania. Washington, Pa.: Regimental Press, Third Artillery, 1887. Also see p. 1 and p. 6 are from PA Archives,3rd Series, Vol. 21. Pp. 473, 475 and 476 are from PA Archives, 6th Series, Vol . 2. showing David Jameson as Colonel of the 3rd Battalion of the York County Militia in 1776 and 1778.
----------------------------------------------
Dr. James Jameson – born in 1771 in York, Pennsyvlania. Some historians have listed his death at 21 March 1831. James was the son of Dr. David Jameson and his wife, Elizabeth Davis. After the death of Jame's wife, Elizabeth Myers in York in 1805 he moved to Allentown, Pennsylvania where he met Catherina Siegfried and sired 2 children by her. Jacobus (a/k/a James) Jameson, born 1808 and Daniel Jameson born 1812. It is questionable whether Catherina and the good doctor were ever married although LDS records indicate that they were married around 1807. See the church records of the Egypt Reformed Church.
-----------------------------------------------
Daniel Jamison - born December 17, 1812 (see his family bible) in Allentown, Pennsylvania and baptized at the Egypt Reformed Church where his mother was subsequently buried. Daniel Jamison married Judith Bomboy. Daniel was a well known businessman and lived for most of his life in the village of Centreville (aka Lime Ridge), Columbia County, PA, just a couple of miles South of Berwick, Pa. Daniel apparently purchased and operated the well known Half Way House (an inn and tavern) in the 1830s which was midway between Berwick and Bloomsburg servicing stagecoach and canal travelers until he "got religion" and shut the place down but not until after making substantial sums of money. A large brick structure in Lime Ridge, which is still in excellent condition, was subsequently built by Daniel in 1842 and known as "The Temperance Inn". This structure is apparently about a block West of the location of the original Half Way House. Daniel and Judith had 9 children, two of whom were Albion B. Jameson and Benjamin F. Jameson. Four or more of his children served in the Civil War. Daniel Jameson died in 1900 at Lime Ridge, Columbia County, Pennsylvania, and is burried on land he gifted as a cemetery to the Lime Ridge Methodist Church. The Temperence Inn was later sold to Elisha Warwick Miller Lowe grandson of Abraham Miller who was one of the founders of Centerville.
Benjamin F. Jameson - born in 1842 . Lived his whole life in the Lime Ridge, Columbia County, PA area. Little is known about his wife, but she is believed to have been Mary C. Glasmoyer or Glassmeyer or Glasmer. Benjamin enlisted in the 35th Regiment of the 6th Penna. Volunteers under his older brother Albion B. Jameson who became a Captain of his unit, Company A. (note: at times the unit is referred to as Co.A, 6th Regiment Pa. Reserves Infantry (35th Volunteers). Benjamin fought in every major engagement during the Civil War including New Market cross roads, Bull Run, South Mountain, Fredericksburg, the Wilderness Campaign, Antietam, and at Gettysburg. The two brother's unit served in support of Col. W. Wallace Ricketts unit in most battles. Col. Ricketts had been the original Commander of the 6th Regiment when it was organized in June/July of 1861. However, Albion was severely wounded in the leg at Antietam and after his recovery, he was semi-crippled and could not return to his unit. Albion then enrolled in medical school at the University of Georgetown from which he graduated and became a doctor on March 5, 1867. Later Albion was prominent in the "GAR - Grand Army of the Republic" and an original signer of documents in Philadelphia swearing allegiance to the U.S. after the death of Abraham Lincoln (MOLLUS?). After the civil war he was appointed to a high government position settling civil war accounts. It is believed that Benjamin's unit at the Battle of Gettysburg fought in the line of battle directly against the Confederate unit of Louisiana Tigers which contained one Victor D. Braud of Baton Rouge, LA, who would later switch sides in the war after he was captured the second time, change his name to George C. Duke, and become the maternal great grandfather of Richard A. Jameson. In fact, the possibility exists that Benjamin's company was the unit that captured Victor Braud, along with a dozen or so other Confederates at Falling Waters during Lee's retreat from Gettysburg on July 14th. If in fact this is the case, the descendants of Richard A. Jameson should be eternally grateful that his paternal great great grandfather didn't shoot his maternal great great grandfather, but rather allowed him to surrender; otherwise, they would not exist. At the Battle of Gettysburg, the 6th Pa Reserve Regiment was part of: 5th Corps (Sykes commanding), 3rd Division (Crawford commanding), 1st Brigade (Col. William McCandless commanding). The first Brigade also included the 13th Pa. Res. Reg. which was known as the Pennsylvania Bucktails. In any event, Benjamin fought with his unit until it was disbanded at the end of the war and he returned to the Lime Ridge, PA area. Although his health suffered greatly from the war, he had many children, including Albert Brittain Lynn Jameson and eventually died in Shickshinny in 1926.
Note: Benjamin's nephew, J. Paul Jameson (son of his brother Albion Jameson) was Vice Consul in China in 1907 and Consul General to China (in Nanking) from 1915 to 1917. On May 1, 1918 he traveled to Russia as a representative of the U.S. and attempted to broker a peace agreement in the East in the Russian civil war. His efforts were largely unsucessful.
Albert B.L. Jamison - born 1885 in or near Shickshinny, PA. Married Bertha Church. Held a variety of jobs and worked for many years as a coal miner. Later after being hauled out of the mines due to cave ins (on several occasions) he acquired black lung disease and took to painting houses. Albert and his wife Bertha Church had 2 children, Harold and Edna. Albert died in 1961 at Shickshinny, PA.
Harold C. Jamison - born in Berwick, Columbia County, PA in 1911. His second wife was Ruth Eleanore Duke of Berwick and they lived in Shickshinny, Pa until their divorce. He had one son, Richard A. Jameson, by this marriage. Harold moved to Snohomish, WA in about 1951 and married Martha Harmon, by whom he had two children, Robert and Elizabeth. Harold returned to Pennsylvania in his later years and died in Berwick in 2002. Ruth E. Duke was the daughter of Benjamin C. Duke, Sr. and granddaughter of George C. Duke (a/k/a Victor D. Braud of Confederate civil war notoriety). On her mother's side (Adah Bower), Ruth was descended from the Garrisons and Isabella Douglas, supposedly a daughter of Lord Archibald Douglas of Scotland.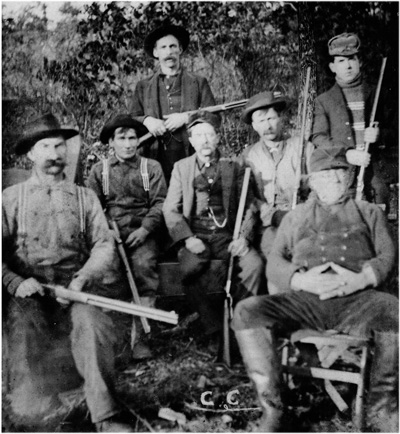 Benjamin C. Duke, Sr., standing upper right carrying what looks like a flintlock
while his fellow hunters seem to be carrying Winchester repeating rifles.

See - Jameson, Horatio G. Memoir of David Jameson, Esq., M.D., Lt. Colonel of the Provincial Forces and Colonel of the Revolutionary Forces of Pennsylvania. Washington, Pa.: Regimental Press, Third Artillery, 1887.
Horatio Gates Jameson (1778-1855), distinguished physician and surgeon, was son of Dr. David Jameson who had emigrated to Charleston in 1740 in company with Dr. (afterwards General) Hugh Mercer.

Footnotes to Col. David Jameson, M.D. (unorganized)
1. From: Hitchheick@aol.com
Subject: Emily Davis of PA.
Date: 12 Aug 2006 20:43:36 -0600
This is a Message Board Post that is gatewayed to this mailing list.
Classification: Biography
Message Board URL:
http://archiver.rootsweb.com/th/read/DAVIS/2006-08/1155437016
http://boards.ancestry.com/mbexec/msg/rw/SNR.2ACEB/18552
Message Board Post:
David Jameson was born in Edinburgh, Scotland, about 1715, and graduated at the medical school of the celebrated university of that ancient city. He immigrated to America about the year 1740, accompanied by his friend and fellow surgeon, Hugh Mercer, afterward distinguished in his profession and as a general officer of the Revolutionary Army. He landed at Charleston, S. C., and, after a brief sojourn there, removed to Pennsylvania; resided for some time at Shippensburg, and finally settled at York, in that province, where his name and fame yet linger, and where a number of his descendants of the fourth and fifth generations still reside. He became an officer of the provincial forces of Pennsylvania and attained the rank of lieutenant-general in the same, and of colonel in the militia of Pennsylvania in the Revolutionary war. He also held, by executive appointment, civic offices in the county of York. The only ones of which any record is found are those of justice of the pea!
ce, the appointments bearing date October 1754, and June 1777- (Glossbrenner's History of York County, 1834)- and a special commission to him and his associate, Martin Eichelberger, Esq., to try certain offenders.
During the French and Indian war (1756) many murders and depredations were committed by the Indians on the frontier of Pennsylvania, extending to all the settlements from Carisle to Pittsburg. A road had been opened from Carisle through Cumberland County, which crossed the North Mountain at a place since called Stra(w)sburg; thence to Bedford and to Fort du Quesne (now Pittsburg). Near Sideling Hill was erected a log fort, called Fort Lyttleton, on this road- since the "Burnt Cabins." This fort was constructed of logs and surrounded with a stockade work. Here we first find Capt. Jameson in his military movements. He was appointed an ensign by the proprietary governor of Pennsylvania, but at what precise period we are not informed. He very soon rose to the rank of captain, without an intermediate lieutenancy.
During his frontier service, Capt. Jameson was dangerously wounded in an engagement with Indians, near Fort Lyttleton, at Sideling Hill, on the road from Carisle to Pittsburg, then Fort du Quesne. His sufferings and perils (being left for dead on the field), and rescue make a thrilling narrative.
It became necessary for him to repair to Philadelphia for medical aid, but it was but a few months till he assumed the field again, though he did not recover fully for six years. He afterward discharged the duties of brigade-major, and also of lieutenant-colonel, all of which he did to the entire satisfaction of the appointing power, at Carisle and at different points, then on the frontier of Pennsylvania.
Capt. Jameson had been educated a physician, yet his ambition had prompted him to solicit a command and to share in the dangers of the field. This did not interfere with his humane prompting to devote a portion of his time to the sick and wounded, and we have seen a letter written by Dr. Rush, in which he says: "I will remember to have seen your father (Dr. Jameson) dress the wound received in the shoulder by Gen. Armstrong, at the battle of Kitaning."
In Scott's geographical description of Pennsylvania, 1805, the following is found: 'gentleman of education, who does his duty well and is an exceedingly good officer.'"
"Col. David Jameason had command of Fort Hunter, Fort Augusta, Fort Aughwick, and was at the battle of Loyal Hanna, March 14, 1769."
Col. Jameson's age, on reaching this country, could not have been less than five and twenty years, for the medical school of the famed University of Edinboro' town then, as now, required six years matriculation. In the French and Indian war, he must have attained the ripe age of forty. When the English colonies of America entered upon their long struggle for national independence, although he had passed the limit of age for military service, and his natural force had somewhat abated, and advancing years and wounds had in a measure enfeebled his physical powers, he nevertheless seems to have been active and efficient, joining at the age of sixty "a marching regiment" to reinforce the Army of Washington, and otherwise aiding "the grand cause" of his country.
The following letter is from the Committee of York County to the Committee of Safety in Philadelphia, dated December 31, 1876:
"In these times of Difficulty several gentlemen have exerted themselves much in the Grand Cause. Several Militia Companys have marched; more will march from this County, so as in the whole to compose at least a pretty good Battalion. The gentlemen who deserve the most from the publick are David Jameson, Hugh Denwoody, Charles Lukens and Mr. George Eichelberger. They have been exceedingly useful. As most of the Companys who have marched have chosen their officers, pro Tempore, an arrangement will be necessary as to Field Officers. We propose David Jameson, Col., Hugh Denwoody. Lt. Colonel, Charles Lukens, Major and George Eichelberger, Quartermaster of the York County Militia, who now march. It will be doing Justice to merit to make the appointment, and we make no Doubt, it will be done by your Board. We congratulate you on the Success of the American Arms at Trenton."
It is also stated, on the authority of his son, Dr. H. G. Jameson, "that he had despoiled his fair estate near York of acres of its fine woodland, in order to contribute without money and without price, to the aid of "the Grand Cause."
The intimate friend of Hugh Mercer, Benjamin Rush, James Smith, and Horatio Gates, and well known to other illustrious men of the Revolution, it is much to be regretted that the story of the life of a soldier of

"good old colony times.
When we lived under the King."

Cannot be made more complete that the fragmentary records left behind him enables his descendants to do.
After the close of his military service under the province of Pennsylvania, David Jameson practiced his profession in York, (interrupted only by the period of his service in the Revolution), and died in York during the last decade of the last century, leaving a widow and children. In a memoir, prefacing a sketch of his services during the French and Indian war, and under the Province, by his son, Horatio Gates Jameson, M. D., the following reference is made to his abode near York:
"The spacious domain near the ancient borough of York, which, with a refined and cultivated taste, he adorned and beautified- though not after the manner (which could not be), of his ancestral home in "Bonnie Scotland," yet adding to its natural beauty all that art could devise to make it fair to view; and where he dispensed a generous and graceful hospitality- has passed, as usual in our country, out of the hands of his posterity; the last possessor of the blood his great-grandson, Gates Jameson Weiser, Esq."
Col. Jameson married Emily Davis, by whom he had eleven children- Thomas, James, Horatio Gates, David , Joseph, Nancy, Cassandra, Henrietta, Emily and Rachel. His sons all became physicians. Thomas settled in practice in York, James in Allentown, Penn., Horatio Gates in Baltimore, and David and Joseph in Columbus, Ohio, and all left descendants.


Taken from the book "History of York County, Illustrated 1886" by John Gibson, Historical Editor
This thread:
Emily Davis of PA. by Hitchheick@aol.com

2. Note: Officers of the Pennsylvania Regiment–1759 (French and Indian War)
…
Second Battalion
Colonel–James Burd
Lieut Colonel–Joseph Shippen
Major–David Jameson; to have a Brevet dated Apr 24, 1759
Third Battalion
Colonel–Hugh Mercer, Apr 23, 1759
Lieut Colonel–Patrick Work, Apr 24, 1759
Major–Edwaed Ward, Apr 26, 1759
Also see - http://www.rootsweb.com/~usgenweb/pa/1pa/paarchivesseries/series2/vol2/pass2-14.html

3 "Scott's Geographical Description of Penn'a, 1805 has the following:
Captain David Jameson is described by Burd as "a gentleman of education, does his duty well, and is an exceedingly good officer".
Col. David Jameson had commanded at Fort Hunter, Fort Augusta, Fort Aughwick, and was at the Battle of Loyal Hanna, March 14, 1769. [ Peter Bezaillon Pushtang, the first settlor of Dauphin County]

4.
Fort Hallifax, Octobr 13th, 1756.
Sr: As Coll. Clapham is at Carlisle, and it being reported hear that his Honour, our Governor, has gone round by York, and therefore not knowing when he will receive an Express that is sent to him from Shamokin, I have thought fitt to send an abstract of Maj. Burd's Letter to me that arrived hear at Day break this Morning that the Gentlemen and Malitia of Lancaster County might take such steps as they think most Prudent. I though it Propper to acquaint you with a piece of Intelligence that I have Received by old Ogaghradariha, one of the Six Nations Chiefs, who came here yesterday in the afternoon, and is as follows, that bout 10 Days before he left Tioga there was two Delaware Indians arrived there who (page 9) was just come from Fort De Quesne & informed him that before they left said Fort there was one thousand Indians Assembled there who were Immediately to march in conjunction with a Body of French to Attack this fort, (meand) Fort Augusta, and he, Ogaghiadariha, hurried down here to Give us the information. He says further, that the day before he came in here he Saw upon the North Branch a large body of Delaware Indians & Spoke with them, & they told him they were going to speak with ye Governr of Pennsylvania, whatever intention they have they are marching towards our Inhabitants.
| | | |
| --- | --- | --- |
| I am , Sr, | | |
| | Your most obedient | |
| | Humble Servt, | |
| | DAVID JAMESON. | |
In an interesting footnote to one letter involving David Jameson it was said:
Hambright's colleague, Captain Joseph Shippen, shows more than a trace of peevishness in this letter to his brother:[21]
Lancaster, 31 May 1757
Capt. Hambright has had better success that day when all the Capts came to town to wait on the Governor he enlisted 12 or 13 of our discharged Dutch men, by assuring them that they were not to go to Shamokin, nor do any kind of work but to range and scour the woods continually, this pleased them so much that they have been endeavoring to persuade all their countrymen they meet with to enlist with Capt. Hambright by which means I believe he has now 30 recruits himself he left this town 10 days ago since which I have not heard from him.
But his brother together with 10 or 12 of his men recruits here and gives every man a dollar besides a Pistole, which I can't afford to do unless the Commissioners would allow it, so no Body recruits upon the same footing with Capt. Hambright & so can't expect equal success.
A week later, on 7 June, his irritation continues to show!
There are several of Capt. Hambright's recruits in & about the Town whom I ordered to hold themselves in readiness to march with Mr. Morgan, but they are such a parcel of Mutinous Dutch Rascals that several of them refuse to go without their own Captain, who they say ordered them to stay here till he came to town, others say they have not got their Cloathes or anything ready for march being but newly enlisted others of them say they did not enlist to go to Shamokin nor to be commanded by anybody but Capt. Hambright. I have threatened them several times to confine them in Goal & have them every soul of them punished for Mutiny. But all will not do, they seem determined to act as they please. I have therefore concluded it most prudent to have nothing more to say to them as it might hurt the recruiting service but leave them till Capt. Hambright comes here from Philadelphia. I expect in 2 or 3 days, & then I suppose he will march up all recruits himself….. I hear he has enlisted 50 or 60 in all.
Capt. Shippen noted 16 June that "Capt. Hambright was ordered to Harris's, site of Harrisburg, to march 60 men up Fort Augusta" and then on 24 June, in a letter to Captain Thomas Lloyd, mentioned that "Capt. Hambright set of from Hunters on Tuesday morning with the Battoes (Bateaux) for Augusta, where I suppose they will arrive to Night.'' No sooner had the captain arrived with his "battoes" at Fort Augusta than he was in the thick of action again, as reported by Captain Shippen in a letter to Captain David Jameson.
29 June 1757
Mr. Clark writes me from Harris that on Thursday last the Cattle Guard at Augusta, consisting of a Serjt, Corporal, and 12 men, were fired at near the Spring by a number of Indians, when 4 of our men were killed and 5 wounded; two of them were scalped..... A party from the fort supposed the number of Indians were 40. The Major had intelligence that about 60 warriors were seen 60 miles up the North Branch, he has sent Capt. Hambright and Patterson with a pretty large party in quest of them.
In a letter to his father on 12 December Captain Shippen is dissatisfied with Capt. Hambright's failure to provide Christmas cheer:
Last night Capt. Hambright arrived here with the Battoes and brought 50 barrels of flour, but no Rum for the Garrison, a Necessary Article for the Soldiers, especially at this Season.
In May 1758, Hambright was posted at a Troop of Light Horse to join Forbes' expedition against Fort Duquesne (now Pittsburgh) and his ability came to the attention of General Henry Bouquet.[22]
[21] Pennsylvania Magazine of History and Biography, 36: 427, 428, 432
[22] Bouquet, Henry, The Papers of Colonel Henry Bouquet. The Forbes Expedition. (Harrisburg, Pennsylvania 1940) II:43

Horatio Gates Jameson (1778-1855) studied medicine under his father, Dr. David Jameson, and began practice in 1795. He settled in Baltimore ca. 1810, receiving his medical degree from the University of Maryland in 1813. Among other offices, Jameson served as surgeon at the Baltimore Hospital, 1814-1835, consulting physician, Board of Health, 1821-1835. He was a founder and president of Washington Medical College, Baltimore and served as Professor of Surgery 1827-35. He was the editor of Maryland Medical Recorder, 1829-1833 and author of Lectures on Fevers, 1817, American Domestic Medicine, 1817, Yellow Fever, 1824, and Treatise on Cholera, 1854.
Footnotes regarding Dr. James Jameson of Allentown:
Worman family records establish that James Jameson Jr (aka "Jacobus" ) and his wife "Polly" nee Worman
moved to Reading, Pennsylvania.
Dr Jameson's will was probated March 1831- he died March 19th. In his will he names his
son James in Northampton Borough (Allentown today) who is to receive $5000.00, and two
children in Adams County: David, who is to receive $1000.00 and Nancy Meyers, who is to
receive $2000.00. The balance of the estate is to be distributed equally among the three
children. (It is believed that Nancy contested the will by filings with the county probate office, the results of which are unknown)
I am not sure what information I had included in my GedCom on Catharine Siegfried if any
at all except her birth date since the Siegfried line is not a direct line for me. However
Catharine Siegfried roots in this book is extended further than her first marriage to Dr. Jameson
Catharine was the daughter of Andrew Siegfried and Anna Elisabeth Hertzog. She was one of
twelve children. After the death of first husband Dr Jameson, she married John Roth and had
at least five more children. She is buried along with her second husband at Egypt, Lehigh Co.,PA graveyard.
If you like more detail info on Catharine, please ask. However, not much is written on the
Doctor's family.
Contributed by Susan Lucykanish
###


Footnotes regarding Albion B. Jameson (brother of Benjamin F. Jameson)
CAPTAIN A. B. JAMESON (brother of Benjamin F. Jameson) , civil service, Washington, D. C., was born in Schuylkill County, Penn., August 23, 1836, in the family of nine children born to Judith and Daniel JAMISON, [footnote: As spelled by Capt. Jameson's father; correct spelling, however, is Jameson.] eight of whom are living, four sons having given their services to the cause of the Union during the war of the Rebellion. The father removed with his family to Columbia County in 1839 and established the hotel known as "The Halfway House," between Bloomsburg and Berwick on the Susquehanna. This hotel was but short lived, however, to Mr. JAMISON, for, having connected himself with the Methodist Church in 1842, he abandoned the business. Our subject attended the public schools until he was sixteen years of age, and then left his home to battle for himself with the realities of life. Later he secured about two years' schooling at Dickinson Seminary and the academy at New Columbus; then taught a district school one year. April 21, 1862, Mr. JAMESON enlisted in Company A, Sixth Pennsylvania Reserves; was commissioned first lieutenant September 21, 1862, and breveted captain United States Volunteers at the battle of the Wilderness. At the battle of Antietam he received a contused wound of the knee joint, on account of which disability he was appointed acting quartermaster of the regiment, in which capacity he served during the last year of his service. After serving the full term of his enlistment (three years), Capt. JAMESON left the army a cripple, and had, therefore, to accept a position in the civil service. He also commenced the study of medicine, in which he graduated from the University of Georgetown, D. C., Medical Department, March 5, 1867. Capt. JAMESON takes pride in the fact that he has assisted in the adjustment of the accounts of the interest on the public debt; redemption of Government securities; funding and refunding of national loans caused by the war of the Rebellion, involving millions on millions in amounts passed upon, requiring fidelity too the Government and honesty and care in the settlements; and it can be truly said of him, without adulation, that he has always held the confidence of those under whom and with whom he has served in any capacity. Reared in the Calvinistic faith by consistent orthodox parents, our subject has had engrafted on him Christianizing influences. In mature years, however, not being able to subscribe too the iron-bound creeds and dogmas as advanced by Calvin, he sought what he considered the more liberal, larger and broader faith, and became united with the Unitarian Church. (History of Columbia and Montour Counties Pennsylvania, Battle, 1887, Bloomsburg, pg. 345)

BIO: MYERS and JAMESON Families, New Oxford, Adams County, PA
http://files.usgwarchives.net/pa/adams/bios/hoac/myers-and-jameson.txt
History of Cumberland and Adams Counties, Pennsylvania Chicago: Warner, Beers & Co., 1886 Part III, History of Adams County, Pages 498-501
HON. HENRY J. MYERS is a native of Adams County. Although now engaged in the business of forwarding and commission merchant and dealer in produce, he was formerly an extensive farmer, with large merchant mill on Conewago Creek, Tyrone Township, near New Chester, at which occupation he was engaged until he removed with his family to New Oxford, April 1, 1878.
NICHOLAS MYERS, wife and sons migrated from Amsterdam, Holland, in 1753, and located in Lancaster County, Penn.; ten years later Nicholas bought 900 acres of land in Adams County and moved to the tract, building near Round Hill, in the vicinity of York Sulphur Springs. Their children were John, Jacob, David, William, Ludwick, Nicholas, Jr., Elizabeth, Susan, Margaret J. and Mary. John, the eldest, was born in Amsterdam, married Miss Sherman, of York county, and had issue. Jacob, our subject's grandsire, was born in 1760, married Hannah Smith, and in 1796 removed to Canowago Mills, and later to New Chester. Their children were John, Philip, Henry and Elizabeth. The father lived to be eighty-five and the mother seventy-five years of age, and their remains were interred in the Bermudian Cemetery. David married Mary Sultzbach, of York County, and to them three daughters and one son were born. Margaret married Peter Binder, and became the mother of four sons and one daughter. Elizabeth, daughter of David Myers, married James Jameson, grandsire of Henry J. Myers, and died October 14, 1805, aged twenty-five years. They resided a number of years at East Berlin, and were buried at Abbottstown. William Myers married Miss Erb, of Frederick, Md., and died in Virginia. They had issue whose names are unknown. Ludwick married a sister of the above lady and had issue. His second wife was a Miss Dull, living near Abbotstown, and they were the parents of eighteen children. Ludwick was seventy-nine years of age at his death, and was interred at the Bermudian Church. Nicholas, Jr., married a Miss Weaver, and had issue. His second wife was a Miss Chronister; the two bore him twenty-six children, all of whom reached an advanced age except two. Philip wedded Mary Heikes, and to their union were born five sons and one daughter. The parents were interred at the Bermudian Church. Peter also married a Miss Erb, who bore him three sons and two daughters. Elizabeth married Michael Miller; they had issue whose names are unknown. Susan wedded Andrew Albert, and their issue was Jacob and Anna. They resided near Dillsburg. Margaret married Col. Anthony Kimmel, of Frederick County, Md., who was elected State senator of that district, and to this marriage one son, Anthony, was born. Mary married a Mr. Weaver, of York County, and had sons and daughters, whose names are unknown. John, the eldest son of Jacob Myers, was born in 1783, and married Eva Myers, who became the mother of five sons and three daughters. After her death John married the widow of Adam Myers, who died April 11, 1872, aged eighty-nine years. Philip was born in November, 1788, and married Elizabeth Smyser, who bore him five sons and five daughters. After her death he married Annie Hersh. His death occurred August 5, 1881, at the age of ninety-three years. Elizabeth, only daughter of Jacob Myers, married Peter Myers, and their issue was two sons and three daughters. The parents lived and died near Round Hill; she at eighty-three and he at seventy-nine years of age. Henry, youngest son of Jacob Myers, was born April 1, 1791, on lands located by his grandsire, Nicholas, Sr. His parents later moved to Conewago Mills. At the age of twenty-one years he married Nancy Jameson (their children are mentioned in note of David Jameson). In 1842, when the Whigs had a majority of 700 in Adams County, Henry was elected a member of the Legislature by the Democracy. He died at New Chester, this county, February 29, 1868, aged seventy-seven years. For the following maternal history of our subject the writer is indebted to Gen. Horatio Gates Gibson. It embraces five generations. David Jameson, a graduate of the Medical University of Edinburgh, Scotland, immigrated to America about 1740, stopping first at Charleston, S. C., and finally settling in York County, Penn. He was commissioned first as captain, then as brigade-major and lastly as lieutenant-colonel of the Provincial forces of Pennsylvania, and also held a commission as colonel of militia of Pennsylvania during the Revolutionary war. He also held civic offices by executive appointment in the county of York in 1764 and 1777. He practiced his profession many years in York. His wife, nee Elizabeth Davis, bore him a family of five children: Thomas, James, Horatio G., Cassandra and Emily. Thomas was a physician of York until 1838; he served as coroner from 1808 to 1818, with the exception of two years, and as sheriff from 1821 to 1824. His first wife was Miss Hahn, of York, whose children were Thomas, Catherine, Charlotte and Margaret. His second wife was Mrs. McClellan, with two children, and she bore him one son, Charles. Catharine P., daughter of Thomas Jameson, married Daniel P. Weiser, of York, and had issue - Gates J., David, Oliver P. and James. Charlotte, the daughter of Thomas Jameson, married Adam J. Glossbrenner, formerly member of Congress from the York, Adams and Cumberland District, and had issue - Emily, Jameson C., Mary and Ivan. Margaret, daughter of Thomas Jameson, died unmarried. Charles, son of Thomas, became a Methodist minister and located in or near New York. Oliver P., son of Daniel P. and Catherine J. Weiser, married and had issue - Emily, Grace, Oliver and James (latter deceased). Emily and Mary, daughters of Adam J. and Charlotte J. Glossbrenner reside in Philadelphia (unmarried). Jameson C., son of Adam Glossbrenner, died young. He was a page in the House of Representatives at the time his father was sergeant-at-arms of that body. Ivan, son of Adam J. Glossbrenner, married Annie Hantz, of York, where they now reside, their issue being Lottie L., Adam J., Emily M. and Magdalena.
HORATIO GATES JAMESON was born in 1778, and August 3, 1797, was married to Catharine Shevell, of Somerset, Penn. They resided at villages in Pennsylvania, the last place being Gettysburg, until 1810, when a permanent location was made at Baltimore, where he founded and became president of the Washington Medical College. Their children were Cassandra, Elizabeth, Rush, Catharine, Alexander C., David D. and Horatio G. David D., a physician of Chambersburg, Penn., died in 1832, without issue. His brothers Alexander C. and Rush were also physicians, and died without heirs, the latter in 1837, while in military service. Horatio G., Jr. (son of Horatio Gates Jameson), was born in 1815, and in 1836 graduated at the Ohio Medical College. In 1841 he married Sarah McCulloch, daughter of Mary (Pannell) and William Porter of Baltimore, Md., whose brothers, David R. and George B. Porter, were governors of Pennsylvania and Michigan, respectively, and James M. was secretary of war under President Tyler. The Doctor and wife left no heirs, and died, within a few weeks of each other, at their home at Mount Washington. Cassandra Jameson was born in 1798 in Somerset, Penn., and married the Rev. William James Gibson in Baltimore in 1832, and had issue-Catharine, Cassandra, William and Robert; of whom Catharine only survives. Cassandra Jameson Gibson died in 186-, and the Rev. Dr. Gibson married Elizabeth Murray in 187-, and had issue - Robert and William. Catherine, daughter of Rev. J. W. Gibson, of Philadelphia, became the wife of George R. Maze, a merchant of Chicago; Cassandra and Robert died without issue. Elizabeth Jameson was born in Wheeling W. Va., February 20, 1801, and married the Rev. John Gibson, September 27, 1821, and had issue - Margaretta Rebecca Mitchell, William, Horatio Gates Jameson, John and Robert. Elizabeth Jameson Gibson died in York, November 9, 1855. William Gibson was born in Baltimore May 26, 1825. As a protégé of Capt. Isaac McKeever, he made a cruise of three years in the Pacific, 1837-40. February 11, 1841, he was appointed by President Van Buren a midshipman, and rose to the grade of commander on the active list of the navy - which rank he now holds. He married at New Orleans, December 26, 1868, Mary Meade Addison, of Washington - a niece of Rear-Admiral Sands. Horatio Gates Gibson was born in Baltimore May 22, 1827, and is now colonel of the Third United States Artillery. He was appointed cadet at West Point March 8, 1843, by John C. Spencer, Secretary of War, and from that institution his diploma was received in 1847. March 16, 1863, he was married to Harriet L., daughter of Mary H. and Benjamin Walker of St. Louis, and to them were born Annie, in St. Louis; Horatio G. J., in Louisville, Ky., and Catherine F., in Fort Preble. Margaretta R. M., in 1844, married Hiram Schissler, of Frederick, Maryland, and to them were born Catherine C., Annie M., Horatio G., William and John. The mother died in 1879 and the father in 1882. Catherine S., daughter of Hiram Schissler, was born in Williamsburg, Penn., in 1847, and in 1872 was married to Hon. F. J. Nelson, of Frederick. Annie M., her sister, married Hon. James H. Hopkins, of Pittsburg, Penn., late member of Congress from that city, and to them were born William F., Kate and James H. John Gibson was born in Baltimore April 17, 1829. He studied law with C. F. Mayer, Esq., and Hon. Robert J. Fisher, and in 1849 was admitted to the bar and practiced until his election to the bench in York County, in 1881. June 22, 1865, he married Helen Packard, of Albany, N. Y. Their children were Robert F., Charlotte P. and John. Robert Gibson was born in 1831, served in 1847 and 1849 as a page in the United States Senate, and was assistant on coast survey, and in 1857 was appointed by President Buchanan second lieutenant in Third Infantry, United States Regiment. He afterward graduated in law, and died at his home in Warrensburg Mo., in 1861, without issue. Catharine, daughter of Horatio Gates Jameson, who was born in Baltimore in 1808, was married, in 1836, to Robert J. Fisher, Esq., who for thirty years was president judge of the Nineteenth Judicial District of Pennsylvania. To the marriage were born eight children, of whom George, Catherine, Emily S., Annie, Helen C. and David A. grew to maturity. Catherine J. Fisher died in 1850. Catherine Fisher was born in York, Penn., in 1837. July 2, 1867, she married James M. Marshall, an army officer, and to the marriage were born Kitty F., Ellen M., Robert J., Jonas F., Thomas A. and Emily S. Annie H. Fisher was born in York and married James W. Latimer, Esq., now one of the judges of the Common Pleas of York County, and to them three daughters were born, viz.: Catherine J., Janet C. and Emily F., and a son, Robert Cathcart. Robert S. J. Fisher was born in York, Penn., July 4, 1847. He studied law with his father, Robert J., and from the position of examiner in the patent office was promoted, in 1883, to that of chief examiner by President Arthur. His wife is Harriet Tyler.
JAMES JAMESON, grandfather of our subject, married a daughter of David Myers, of Adams County, to whom were born Nancy and David. The father was also a physician of Allentown, Penn., and principal owner of a chain bridge across the Lehigh River at that place. He was born in 1771 and died in 1831. Nancy, daughter of James Jameson, married Henry (her first cousin), son of Jacob Myers, of New Chester, Penn., and had issue: Jacob A., Singleton (deceased), Henry Jameson, Ann E. J., Horatio Gates, David P. and William (latter deceased). David Jameson, son of James, married and had issue: Henry M., Amelia, Nancy, James B., Rush and Elnora. They lived one and a half miles east of Gettysburg, and their brick barn was used as a field hospital by the Confederates during and after the battle of Gettysburg. Jacob A., son of Henry and Nancy J. Myers, a native of Adams County, married Sarah Deardorff, of York Springs, and their children were Emily S., George H., Ellis G. (deceased), Nancy, Leigh R., Jacob U. and William B. Jacob A. resided many years on a farm near York Springs, in Adams County; then moved to Bethlehem, Penn., where he operated coal lands, which made him rich. Henry J. Myers, son of Henry and Nancy Myers, and the subject proper of this sketch, was born in Adams County November 22, 1826. He married Belinda M. Slagle, of Hanover, York Co., Penn., and to them were born Charles, Robert Gates, Jacob Ross, Edward, Annola, all of whom are deceased, except Jacob Ross (Charles reached his sixteenth year). Henry J. Myers was elected to the State Legislature in 1860, and re-elected in 1862, and since 1873 has been agent at New Oxford for the H. J. H. & G. Railroad in connection with his business, that of a commission merchant and produce dealer. Ann E. J., daughter of Henry and Nancy J. Myers, was born in Adams County; married Dr. Lewis Stonesifer, of Littlestown, and had one son, A. C. Stonesifer. After the Doctor's death she married J. M. Walter, of Gettysburg, by whom she had one son, George M., now an attorney at law. Horatio Gates Myers married and had issue - Herndon and Elizabeth. He was a merchant of Hanover, and at the outbreak of the late war became captain of a company in a Pennsylvania Regiment and died from exposure, at Verdant Mead. Hagerstown, Md. Mollie, his widow, married William Russell, of Lewistown, Penn. Emily S., daughter of Jacob A. Myers, married James Ellis, of Pottsville, Penn., attorney for the Philadelphia & Reading Railroad and member of the Legislature from Schuylkill. George H. Myers, president of First National Bank and burgess of Bethlehem, Penn., married Callie Weiss; Nancy, his sister, wedded F. C. Mattes. Leigh R., a prominent lawyer of Bethlehem, Penn., married Kitty Weiss. William B. resides in Bethlehem, Penn.; he married a Miss Chapman and has issue. J. Upton, another son, is a capitalist in Bethlehem, Penn. J. Ross, son of our subject, was born near New Chester, Penn., June 30, 1867; now a student of Ursinus College, Montgomery County, Penn. Herndon Myers, son of Horatio Gates Myers, married Edith, daughter of Gen. J. Irvin Gregg, and resides at Altoona, Penn. Elizabeth, his sister, married a son of B. L. Hewitt, of Hollidaysburg, and now resides in Jamestown, Dakota. Rush, son of James Buchanan Jameson, is a telegraph operator in Philadelphia, Penn. J. B. Jameson, Sr., who was during the late war first lieutenant of the Union Light Guard, Ohio Volunteer Cavalry, and commander of President Lincoln's and Andrew Johnson's body-guard, married for his second wife Miss Amanda C. Myers, of Hanover, and removed to Lake Como, Putnam County, Florida, where he now lives.
-------------------------------------------------------------
JAMISON
FAMILY BIBLE

Births

| | |
| --- | --- |
| Daniel Jamison | December 17, 1872 |
| Judith Bomboy | December 25, 1813 |
| Celestia Adeline Jamison | December ?, 1833 |
| Albion Bomboy Jamison | August 23, 1836 |
| Agnes Jamison | January 6, 1838 |
| James Almon Jamison | December 23, 1840 |
| Benjamin Franklin Jamison | August 30, 1842 |
| Elizabeth Ann Jamison | October 12, 1844 |
| Isaiah Jacob Jamison | October 23, 1846 |
| Mary Catherine Jamison | March 23, 1850 |
| Sarah Valera Jamison | March 1, 1852 |
| Mariah Maust | October 16, 1823 |
| Susan Harriet Jamison | November 1, 1859 |
| Allan Gadilyn Jamison | October 29, 1861 |
| Charles Willington Jamison | March 2, 1864 |

Deaths

| | |
| --- | --- |
| Daniel Jamison | October 14, 1900 |
| Judith Bomboy | July 5, 1854 |
| Mary Catherine Jamison | December 14, 1852 |
| Allan Gadilyn Jamison | July 20, 1863 |
| Elizabeth Ann Jamison | July 9, 1906 |

Marriages

| | | |
| --- | --- | --- |
| Daniel Jamison | Judith Bomboy | February 21, 1833 |
| Daniel Jamison | Mariah Maust | November 11, 1858 |

The above family bible in which the above names and dates are recorded was exhibited to me for examination and comparison, and I hereby certify that the above is a true, correct transcript of the record therein contained at this date.
Signed Col. Crook
Public Notary at the White House
Donated by Maude Luskey
* Note: A spiritual revival broke out among Catholics soon after Martin Luther's actions, and led to the Scottish Covenanters' movement, the precursor to Scottish Presbyterianism. This movement spread, and greatly influenced the formation of Puritanism among the Anglican Church in England. The Scottish Covenanters were persecuted by the Roman Catholic Church, who burned some of the leaders at the stake as "heretics". This persecution by the Catholics drove some of the Protestant Covenanters out of Scotland. Whether this was one of the reasons that David Jameson emigrated to America is unknown.
The Covenanters formed an important movement in the religion and politics of Scotland in the 17th century. In religion the movement is most associated with the promotion and development of Presbyterianism as a form of church government favoured by the people, as opposed to Episcopacy, favoured by the crown. In politics the movement saw important developments in the character and operation of the Scottish Parliament, which began a steady shift away from its medieval origins. The movement as a whole was essentially conservative in tone, but it began a revolution that engulfed Scotland, England and Ireland, the Wars of the Three Kingdoms.
The name derives from biblical bonds or covenants. The
National Covenant
of 1638 takes as its point of departure earlier documents of the same kind and is chiefly concerned with preserving the Reformation settlement free from crown innovations. Its sister document, the 1643
Solemn League and Covenant
, is also concerned with religion, but its chief importance is as a treaty of alliance between the Covenanters in Scotland and the
Parliament of England
, anxious for help in the increasingly bitter
civil war
with
Charles I
.
The Jameson Family
Anchorage, Alaska
Telephone: (907) 242-7245